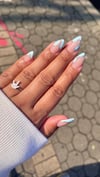 THE ORIGINAL ILY Rings Released 4/2022 are now available! These beautiful rings are the perfect gift for your loved ones. Those immersed in the ASL & Deaf/HOH world would absolutely love a gift like this. If you simply want to tell someone you love them , you can through this ring!
Made by hand & literally my hand shape which started Cat Signs Shop.
Silver
Size: 6 or 7
Finish: Stainless Steel- electroplated
Color: Silver
Gold
Size: 7
Color: Gold
Finish: 18k Gold Plated
Durable
Handmade
Personalized Shape - CatSignsShop Logo Hand
Good on sensitive skin
Tarnish Free
Durable
Nickel Free
Thin small band
Safe in pool water , beach water & water.